You can manage a variety of media content in the Video Platform. Media Management tools enable you to handle a variety of tasks, including editing, sharing, and publishing video content. Administrators can manage all media, while Content Creators can manage their own media.
Managing Media
You can watch video files, manage and delete video content, and publish content to different channels directly from your My Media Collection.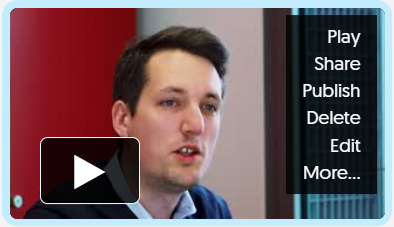 Log in to the Video Platform and navigate to your

 

Media Collection

 

by clicking

 

Manage Media

 

from the top of the webpage.

From your

 

Media Collection

, hover over a media thumbnail to open a list of

menu options.
Choose the desired video management option from the menu. Options include

 

Play,

 

Share, Publish, Delete,

Edit

and

 

More…. The

 

Media Details panel through More... provides additional options for captioning, security, and downloading.

Upload

enables

you to ingest a video to the Video Platform by uploading the content directly or linking it from an online site, like YouTube. The

 

Upload

 

link is available at the top of the

 

Manage Media

 

screen.
Play lets you watch the video you have selected.
Delete

 

removes the video from your

 

User Collection. The permission to delete files must be enabled by an Administrator.

More…

 

allows access to a number of other video management tools through the Media Details panel, described below.
Publish

 

makes a video accessible to Users with access to the Media Channel or Shared Folder.

Share

 shares videos with single or multiple Users.
Edit enables access to the Video Platform's non-destructive video editing tool.
Accessing Additional Video Management Tools
Additional video management tools are available from the Media Details page. The Media Details are available through the More... option on the video thumbnail.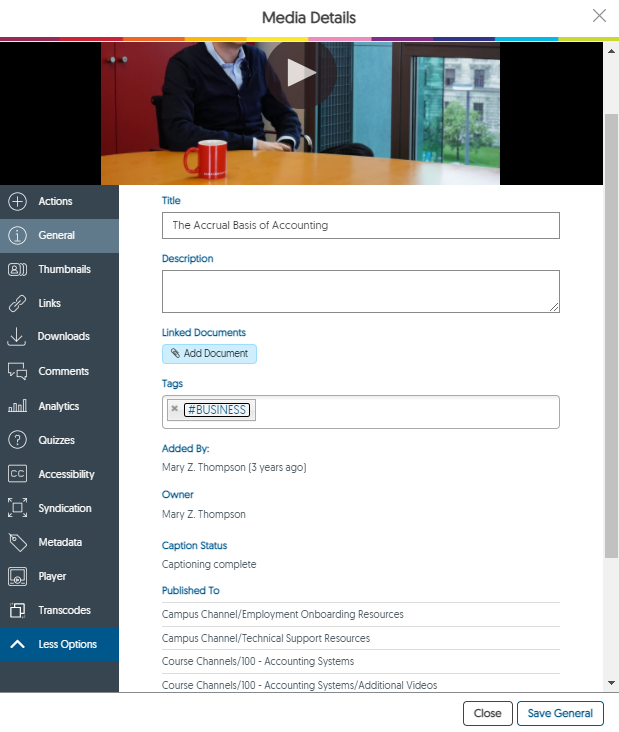 Actions

enable you to

 

Publish, Share, Edit, or

 

Delete

 

from the Media Details

 

page.
General

 

offers the ability to change the

 

Title

 

or

 

Description

 

or to link documents to the media content.

Thumbnails

enable content owners to select the desired display thumbnail for your video. This thumbnail will show up in 

Manage Media

, and the 

Media Channels

, if published.

Links

provide access to media files links and lets content owners adjust security settings as desired, including password protection. Both embed and direct links are available from the

Links

 page. Copy and paste links as needed.

Downloads

enable content owners to download video or audio-only content, and to set download permissions.

Comments

enable owners to allow video commenting and interaction.

Analytics

offers a basic look at a summary of analytics for the media file.

Quizzes

provide access to 

Video Quiz

 creation, editing, and publishing options.

Accessibility

manages a variety of accessibility options, including captioning options and the ability

to upload audio descriptions.

Click More Options to explore the following:

Syndication

provides access to allowed Syndication options, like RSS feeds, Facebook and Twitter.
Metadata

enables 

Content Owners

 to provide

 Metadata

 information as required by the organization.

Player allows you to select a custom Media Player branding profile for your video.
Transcodes provides Administrators access to generate or delete custom video qualities automatically created when a video is uploaded to the Video Platform.