Media Details provides access to a number of features to manage individual videos or media files, including Accessibility, Links, and Metadata. Media Details are available for created, uploaded or linked content, but options are limited for linked content.
Accessing Media Details
Media Details are available for individual content, accessed through Manage Media.
Using Media Details
The Media Details panel provides access to a range of media management options for individual media files.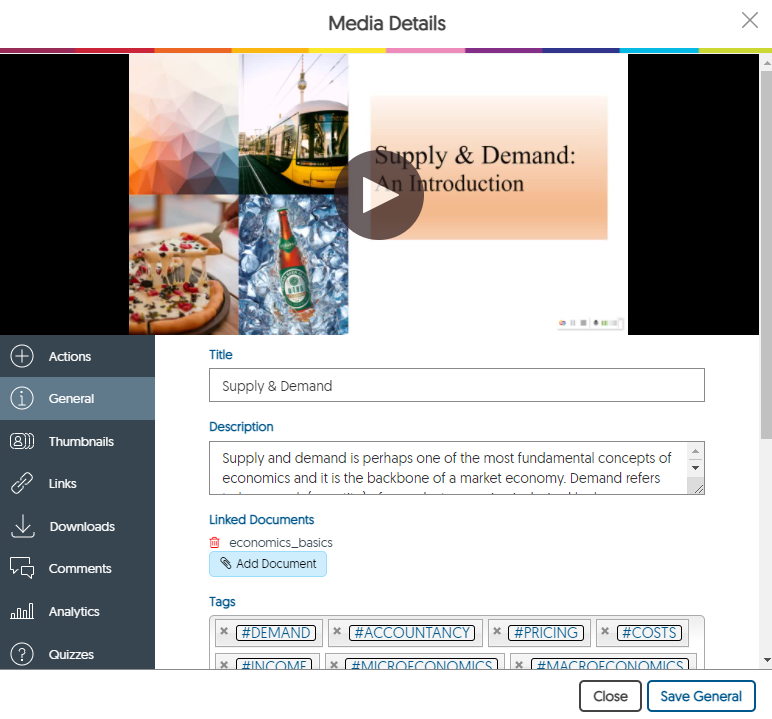 The General Media Details page provides access to the Title and Description, Linked Documents, Tags, Added By, Added On, Owner, Caption Status, Published To, and Copyright. Click Save to save any changes to your General page.
Thumbnails enable content owners to select the desired display thumbnail for your video. This thumbnail will show up in Manage Media, and the Media Channels, if published.
Links provide access to media files links and lets content owners adjust Security settings as desired, including password protection. Both embed and direct links are available from the Links page. Copy and paste links as needed.
Downloads enables content owners to download video or audio-only content, and to set download permissions.
Comments enable owners to allow video commenting and interaction.
Analytics offers a basic look at a summary of analytics for the media file.
Quizzes provide access to Video Quiz creation, editing, and publishing options.
Syndication provides access to allowed Syndication options, like RSS feeds, Facebook and Twitter.
Accessibility manages a variety of accessibility options, including captioning options and the ability to upload audio descriptions.
Player enables Content Owners to choose custom Media Player branding made available by the organization.
Versioning allows Content Owners to view past metadata history, including file renaming, metadata tags, ownership changes, publishing events, thumbnail changes and dozens more.
Consent Forms allow Content Creators to send, review and manage consent forms within a single space.
Facial Analysis scans an existing library of images created by the institution to recognize faces within a photo. This tool can be integrated with Consent Forms to help identify people who may not have consent forms tied to them. To utilize this feature, please contact your Admin to turn this capability on within your Video Platform instance.