Institutions that use photos for marketing purposes often need to receive consent from the individuals within the picture. The Video Platform allows Content Creators to send, review and manage consent forms within a single space. This feature can integrate with the Facial Recognition tool.
Adding Consent Forms
Log into the Video Platform.

Navigate to the

Admin Panel

from the

Main Menu. Then, from the left-side menu, select the Branding tab.
Scroll down to Consent File, and select Create New.
Select Choose File to upload your consent form.
Select an expiration date for the file.
Select Consent Type to categorize the consent form from the predefined categories, or Select Custom Consent Type to create your own.
Sending Consent Forms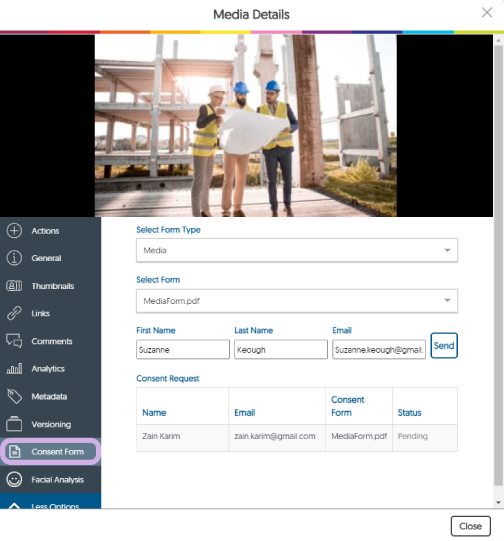 Log into the Video Platform
Hover over the media you would like to send consent forms for, and select More....
Select the Consent Form tab.
Under Select Form Type, Select the category in which the form is located in.
Under Select Form, select the consent form you would like to send.
Enter the recipient's First Name, Last Name, and Email.
Click Send to complete the process.
You can view the recipient's response in the status column located under Consent Request.