YuJa Verity for Test Proctoring allows instructors to curate and assign proctored tests to students to ensure the security of tests taken from remote locations. Students can then access and take tests directly in their LMS. Please follow the steps below to learn how to create a Verity-enabled test in Blackboard Learn Ultra.
Enabling Verity for Your Test
Before you enable Verity for your test, please make sure you have created a test in Blackboard Learn Ultra.
Select the test you would like to enable Verity for.

Select Turn on proctoring, then click View YuJa Verity Settings to configure the desired settings for the test.

Scroll down and select

which of the following features you would like enabled.

Record Video: Record the student's test environment through their webcam.
Record Audio: Record the student's audio through their connected microphone.
Record Web Traffic: Record the sites and URLs visited during the test.
Only One Screen: Students can only have one monitor connected.
Disable New Tab: Students will be unable to open tabs once the test has started.
Close Open Tabs: Students must close all tabs before beginning the test.
Once satisfied with your settings, click the X icon in the top-left of the panel to close the settings menu.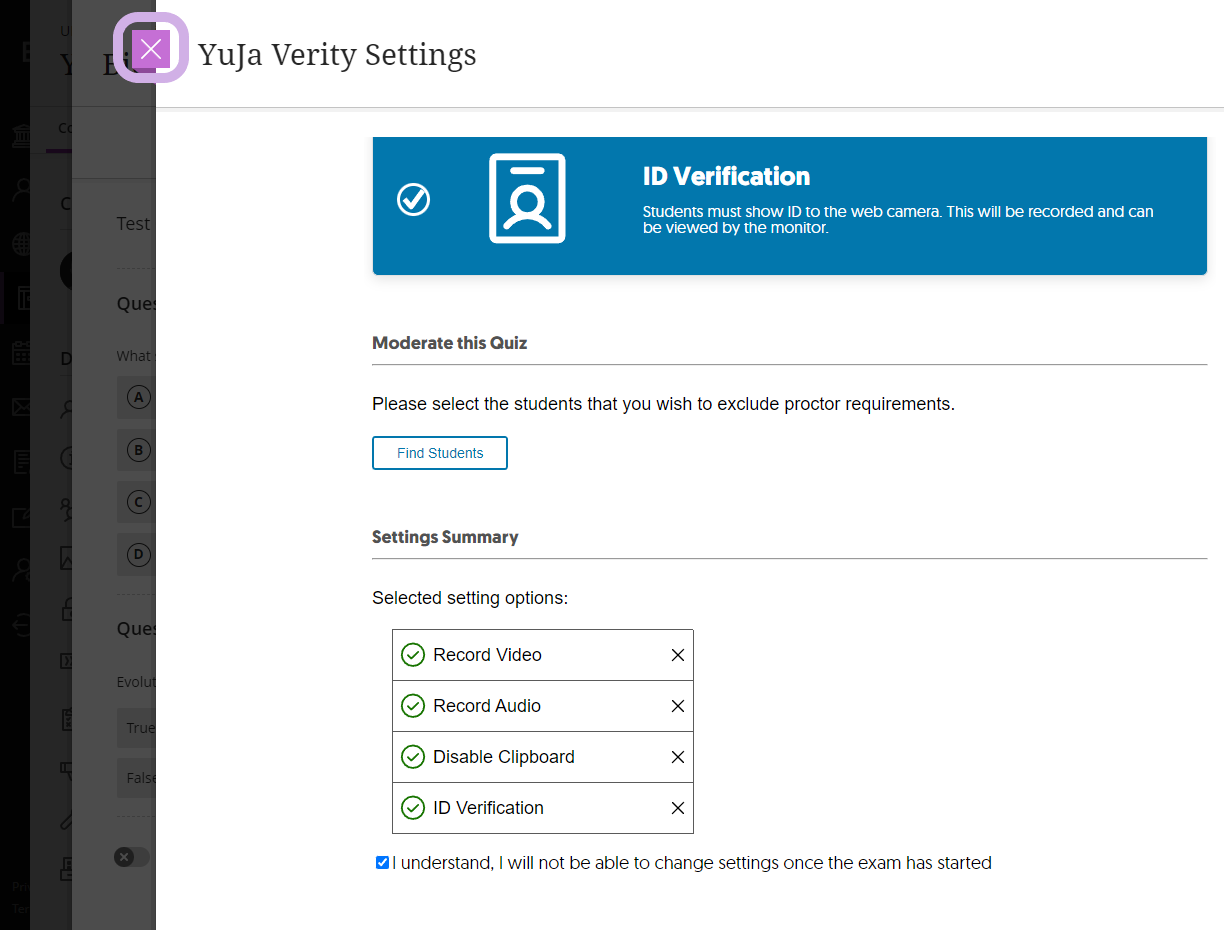 Reviewing a YuJa Verity Proctored Test
As students complete their proctored tests, instructors can begin reviewing the attempts and submissions.
Select the test you would like to review attempts for.

The Results table provides a list of all students who attempted the test.
To narrow your results, click the filter adjustment icon to the left of the search bar.
Select the filters you wish to view and click Apply.

If ID verification was enabled for the exam, click View ID Verification to see the student's ID.
Select the attempt you would like to review from the Select Attempt drop-down menu.