You can use the YuJa Media Chooser to upload or create new content, and embed the content directly in D2L, or create a link to your content. This makes it simple for instructors and students to add video content to multiple areas in D2L.
Accessing the Media Chooser
The Media Chooser can be accessed from Content, Assignments, and Announcements through the Insert Stuff button or Insert Quicklink button available in the text editor.
Log in to D2L as an Administrator or Instructor, then navigate to a D2L course.
From the course, navigate to an activity that supports a text editor content item.
Create a new post or edit an existing post.
The name of the tool may vary depending on your organization.
Using the Media Chooser
The Media Chooser is accessible in areas of D2L where users are able to access the text editor.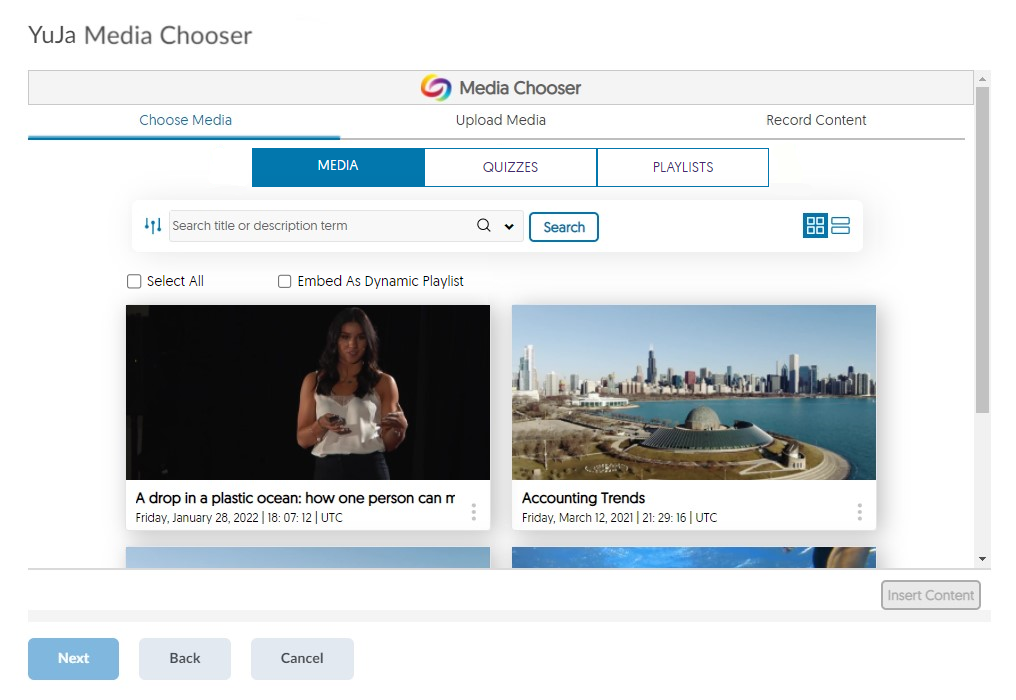 In the Media Chooser, select one of the following:

Choose Media: Select media files, video quizzes, or playlists from your Media Library. Please note: The Quizzes tab will only appear in gradable areas of your course.
Upload Media: Upload a video file, audio file, document, web link, or VR video file.
Record Content: Launch YuJa Software Capture to create a recording.

Select one or multiple videos and click Insert Content to embed them in a D2L Post.
Enabling Permissions for the Media Chooser
In some cases, select roles need to be given permission to access the Media Chooser.
Log in to D2L as an Admin, and click the Gear icon on the top right.
Locate Manage and Delete External Learning Tool Links, and select the areas you would like the analytics for embedded videos to be tracked.