The Split Tool in the Video Editor allows you to cut selected sections of content within a video. Sections can then be removed or trimmed.  
Accessing the Video Editor
All Video Editor features are available to users for content stored in your My Media.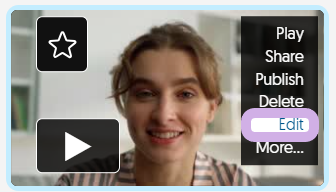 Navigate to

 

Manage Media

and h

over over the video you would like to edit.
Select Edit

from the list of menu options

.
Using the Split Function
Toggle Advanced Mode on. 
Select a video track to split.

Next, drag the timeline pointer to the part that you would like to split.
You will now be able to move sections of the video track independently, allowing you to rearrange, delete, and trim sections.