Cutting and Trimming videos allows Content Creators to easily remove portions of uploaded or captured media content. 
Accessing the Video Editor
All Video Editor features are available to users for content stored in your My Media.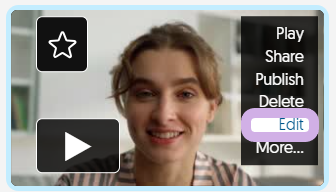 Navigate to

 

Manage Media

and h

over over the video you would like to edit.
Select Edit

from the list of menu options

.
Using the Cut Tool 
Drag the timeline pointer to the part of the video you wish to begin or end your cut.

Click on the Cut button.



Drag your mouse to the left or right of the timeline pointer to position your cut. Click to release. 

Tip: You can double-click on the cut made to precisely adjust the start and end times of your cut. 
Trimming the Edges of a Video