The Settings and buttons on the Menu Bar in the Media Player are available to all users. These can be adjusted by through the Admin Panel's Branding tab as part of the Media Player Theme.
Using Settings and Menu Bar Options
Settings provide users with the ability to customize the Media Player, access Player options, and Download Media or Create Clips. Buttons on the Menu Bar allow users to control the Media Player. The options available to users depend upon selections made by the organization.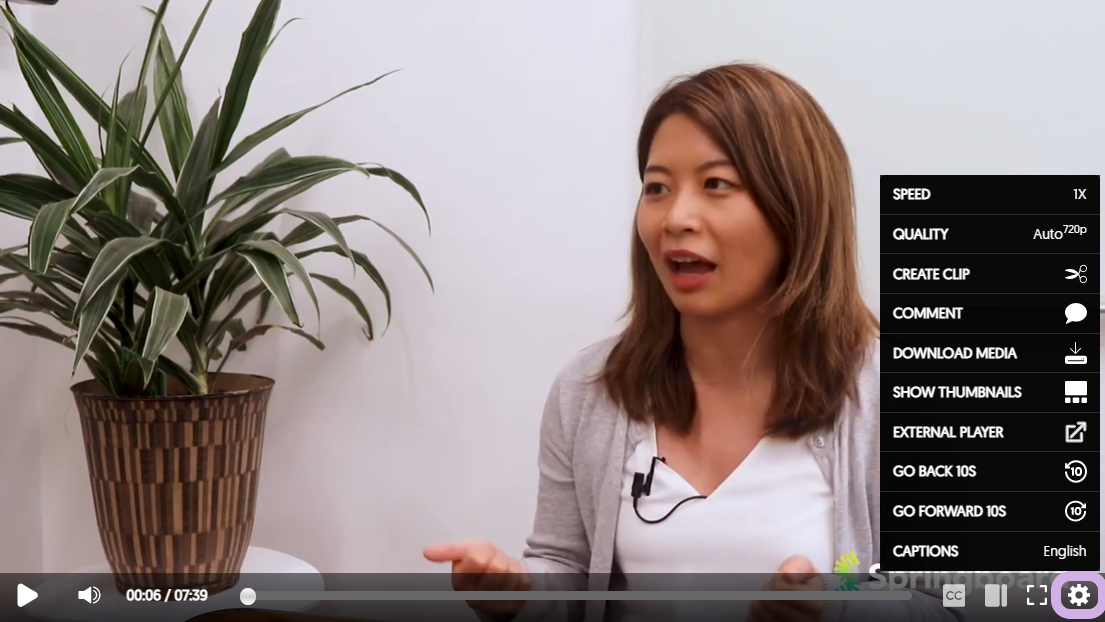 Click on the Sidebar to open the Index, Comments, Resources, and other information.
Select the Comments button to add a Comment.
Adjust Speed and Quality to improve the viewing experience depending upon personal needs and internet speed.
Use Create Clip to create a linked Clip or Segment.
Click Download Media to download an audio or video file of the media, if allowed by the Content Creator.
Adjust the viewing experience by toggling Thumbnails on and off, opting for an External Player in a new browser tab, or viewing in Full Screen.
Use Go Back 10 Seconds or Go Forward 10 Seconds to briefly jump backward or forward in the media.
Choose the CC button to toggle Captions on and off. Click on Caption Setting to change the Caption language, when available.