The Video Editor enables users to insert a slide to provide new or additional information over a portion of a media file.  You can also use this to create a Title Card for your media by adding an image.
Inserting a Slide
Inserting a slide allows you to upload a file to take the place of a designated portion of media content.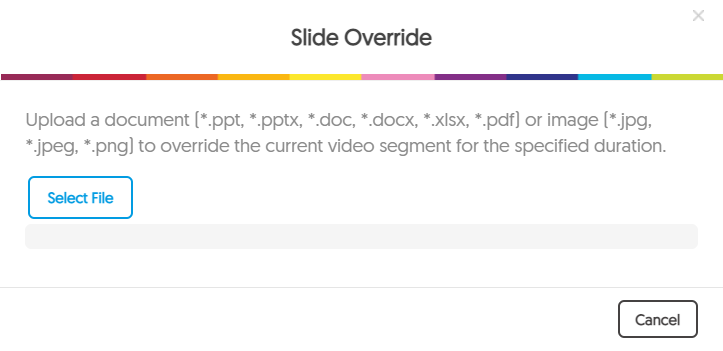 Navigate to Manage Media at the top of the screen. Select the desired media.
Hover your mouse over the media thumbnail and select Edit. 
Click the Insert a Slide button at the desired point in the media; it looks like an old-fashioned slide projection screen.
Choose Select File. You may choose a *.ppt, *.pptx, *.doc, *.docx, *.xlsx, or *.pdf file or an image file, like a .jpg or .png.
Enter an Override Time and Duration.
Select which Video Stream you would like to override with the uploaded file content.
Click Apply.   
Click on the Slide on the timeline to edit your addition. The Slide will appear after re-processing when you save your edits.