Understanding Accessibility Reports
Accessibility Reports provide comprehensive insights into specific areas where your documents can be enhanced, offering valuable guidance for improvement.
For a more detailed breakdown of the accessibility score, click on the Accessibility Badge to open the Alternative Formats menu.


Under the View Issues section, the Content Owner can scroll through the summary of issues. The View Issues section will summarize all missing accessibility components from missing page numbers, missing titles, or issues with color contrasts.
Improving the Accessibility Score
Once you have read through the Accessibility Report, the content can go through and fix the highlighted issues directly on your document. Once all of the improvements have been made, the content owner can drag and drop their corrected document into the Accessibility Report window under the Upload Improved Version section.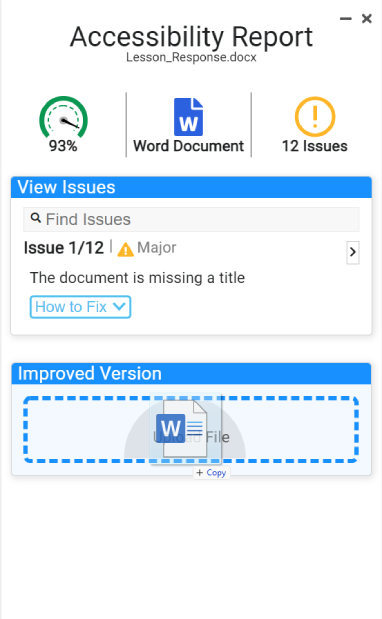 Accessing Alternative Formats
Due to the variety of viewer needs today, students can retrieve alternative file formats to meet their individual needs. Whether a visually impaired viewer requires text-to-speech narration for easier access to digital content, or if they prefer to read the document in a more convenient web format, Panorama's Alternative Formats is a great resource available directly within the LMS course section. Instructors can also toggle Visible to Students ON or OFF to enable or disable Student access to individual files.
Alternative Formats are generated on your documents automatically and do not require any extra configuration or editing in D2L on your behalf.
Once the user finds the course document, there will be an Alternative Formats icon to the right of the document title.

Click on the Alternative Formats icon to display the list of available resources.

Below is the list of available Panorama Alternative Formats:


Source File: View the document in its original format, suitable for download viewing.
PDF: View the document in PDF format, suitable for both online and download viewing.
Text File: View the document in a pure text format without any formatting styles, suitable for both online and download viewing.
Immersive Reader: Allows for customizations to text preferences, grammar options, and reading preferences while following along with the audio playback.
Gradient Reader: Enhances visual word recognition when reading by providing a guiding color gradient.
EPUB: View the document in the ebook format, suitable for any ebook reader application.
Braille: View the document in the braille format, suitable for download viewing (a braille reader is required).
Audio Podcast: Audio playback for documents, suitable for both online and download listening.
OCR: Convert images with text into machine-encoded text that can be searched and read by screen readers.


OCR PDF: Images and GIFs with text inserted into a document can be searched and read aloud by screen readers.
OCR Text: Recommended for those who'd like plain text, the OCR tool will extract and display text within images and GIFs as a TXT file.
OCR Audio: Extract text within images and GIFs into an MP3 text-to-speech audio player.

Math Formats: Convert documents containing math equations into LaTeX, clear text (i.e. numbers and symbols to words), or MP3 files.


Latex: Convert documents into LaTeX document format.
Math Text: Convert documents into printed English, including numbers and symbols.
Math Audio: Convert documents to MP3.

Language Translation: Translate a document automatically to over 100 languages, which can be downloaded.