The Software Capture for Apple application lets users save their recording settings as profiles. This allows users to quickly select a preferred recording profile for their subsequence recordings instead of changing every setting all over again.
Click on the Create Recording function located at the top of your screen. Then, select the Start option.
Modify all the recording settings for video, audio, and screen as needed.
Click the Profile option on the left side menu to expand the section.
Under the Save As option, enter a name for the new profile.
Select the Save icon to save all the current recording settings as a new recording profile.
For any subsequence recordings, the users can select the saved recording profile under the Profile dropdown menu.
Enable Optical Character Recognition
The Software Capture for Apple application allows users to enable or disable Optical Character Recognition (OCR). If OCR is enabled, content will be screened and included in the index of the media player.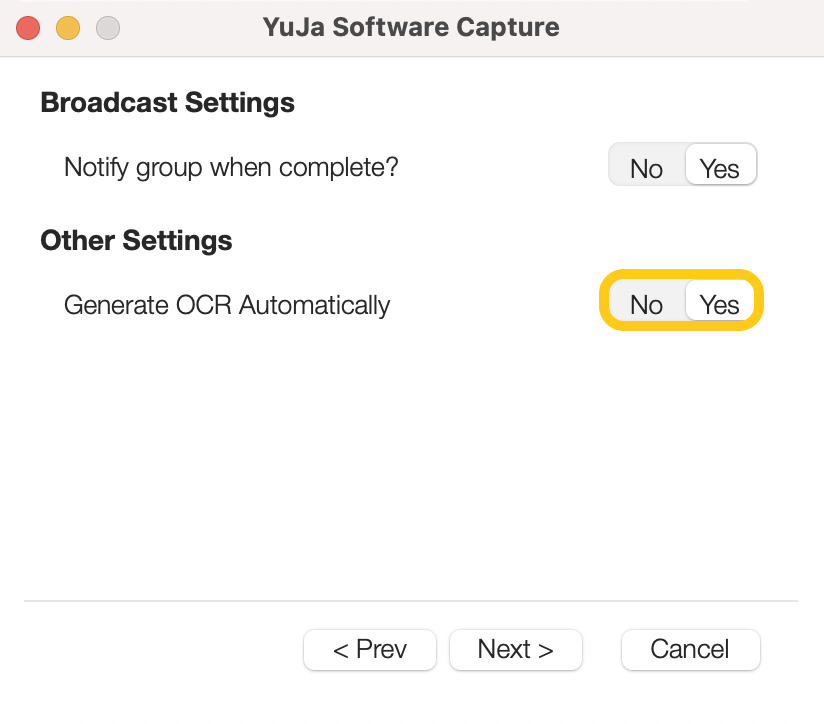 Launch the Software Capture for Apple application.
Click Settings to open the YuJa Software Capture Settings Menu.
Select Profiles.
From the dropdown menu, select the profile to edit and click the edit button.
Make any necessary changes to the Local Capture Settings and click Next.
Toggle between Yes or No to enable or disable OCR.
Add a Profile Name and click Save.