ZoomText is a solution that improves Windows computer accessibility for users with low vision and hearing impairment. ZoomText provides magnification and document reading tools for individuals with learning disabilities, low literacy, and other print disabilities.
Enabling the ZoomText Magnifier
The ZoomText Magnifier is a screen magnification program that enlarges text and images on the Windows display.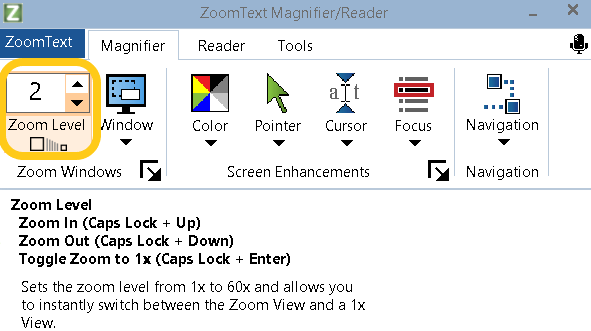 To increase or decrease the Zoom Level from the ZoomText Toolbar, select the Up or Down arrow under Zoom Level. Users can also use the keyboard shortcuts by hold down the Caps Lock Key, and press the Up and Down arrow keys.
Setting up the ZoomText Voice Feature
ZoomText can perform a text read of what is on the display and narrate the text. The ZoomText program announces menus, dialog boxes and more as Users navigate through the Video Platform. Users have the ability to adjust ZoomText's voice rate and echo settings to a their preferences.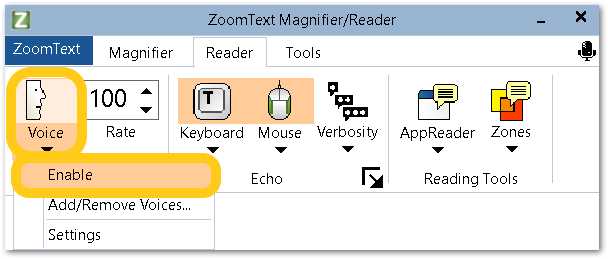 To enable the Voice feature, navigate to the ZoomText Toolbar and select Reader. From the Voice Icon dropdown, select Enable.
To increase or decrease the voice speed, hold down Caps Lock + Alt and press the Up and Down arrow keys on your keyboard.
Enabling and Disabling ZoomText
Users can enable and disable ZoomText at any time without exiting the program. When the program is disabled the screen returns to a normal view and all speech output is disabled.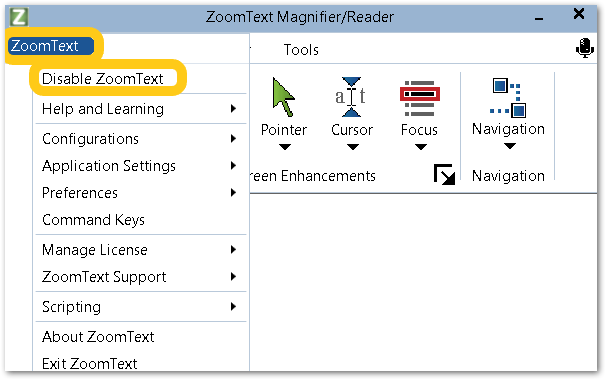 Click on the ZoomText in the top-left corner of the application.
Select Disable ZoomText or Enable ZoomText. You can also toggle ZoomText off and on by holding down

Caps Lock + Ctrl

and press the

Enter

key.