Due to the variety of viewer needs today, students can now retrieve alternative file formats to meet their individual needs. Whether a visually impaired viewer requires text to speech narration for easier access to digital content, or if they prefer to read the document in a more convenient web format, Panorama's Alternative Formats is a great resource available directly within the LMS course section.
Accessing Alternative Formats
Once the user finds the course document, there will be an Alternative Formats icon to the right of the document title.
Click on the Alternative Formats icon to display the list of available resources.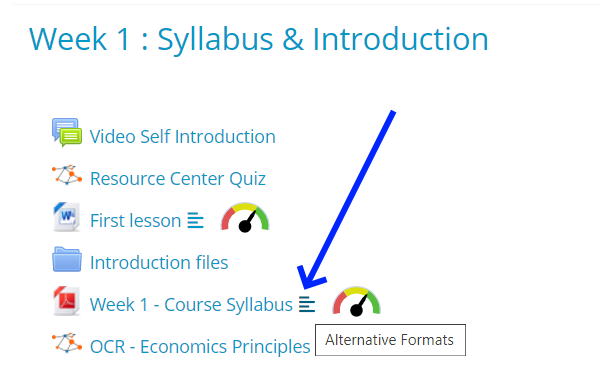 Alternative Format Definitions
Below is a summary of all the Alternative Format types that viewers can access to cater to all of their diverse needs.
PDF - Standard Portable Document Format to work with many types of assisted technology.
Braille - Standard BRF file which is compatible with graphical screen readers.
EPUB - Open eBook file which can be read on various smartphones, tablets, and e-readers.
High Contrast

- Web display of document for low vision constraint learning.
Text to Speech - Audio narration of document text.
Plain Text - Standard TXT file which is compatible with PC, Mac, and Chromebooks.