Video Quiz Settings allow Content Creators to make selections involving Video Quizzes, including both User Experience and LMS Gradebook options.
Accessing and Using Video Quiz Settings
Content Creators will be able to customize the User Experience and how the YuJa Gradebook is synced to the Organization's LMS.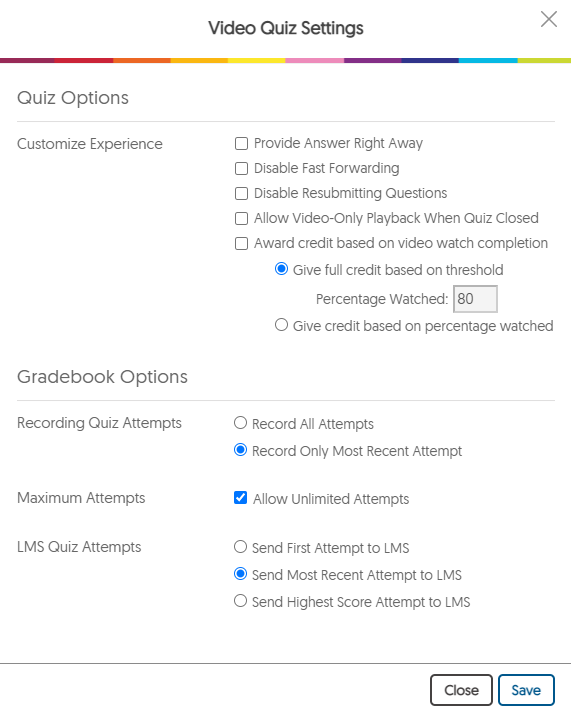 Navigate to the desire media in Manage Media, hover over the media's thumbnail, and select More.
Click on the Quizzes tab, then choose either creating a new quiz or edit an existing quiz.
Choose Settings.
The User Experience is customizable with the following options.
Provide Answer Right Way: Let the users know whether their answers are correct or incorrect.
Disable Fast Forwarding: Prevent users from skipping ahead of the video.
Disable Resubmitting Questions: Prevents users from changing their answers after making a selection.
Allow Video-Only Playback When Quiz Closed: Allow users to access a video after the Video Quiz has closed.
Award Credit Based on Video Watch Completion: Award a bonus point based on whether the user reaches the set percentage watched threshold or based on the percentage watched.
Customize the Gradebook Option to choose how the quiz is graded and which score to send to the Organization's LMS.
Recording Quiz Attempts: Choose whether to record all the attempts or just the most recent attempts.
Maximum Attempts: Select the number of attempts a user can take a Video Quiz.
LMS Quiz Attempts: Select which attempt to send the grade over to the Organization's LMS.