With the Video Platform, Administrators can remotely schedule an impromptu or recurring live stream session for a Hardware Hub right from the Admin Panel's Devices page.
Scheduling a Live Stream on the Hardware Hub
The process for scheduling Live Stream sessions is simple for any Hardware Hub.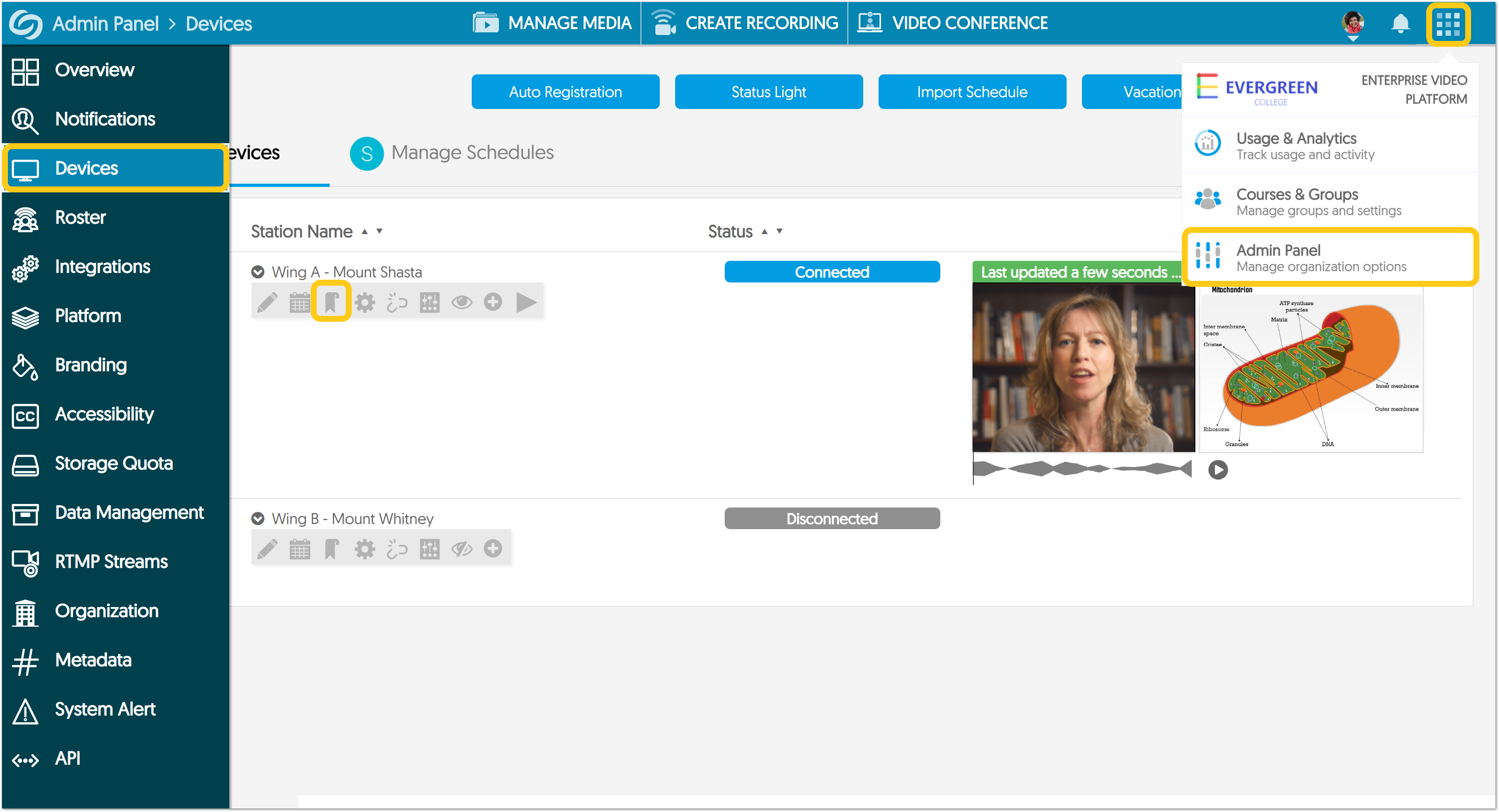 Log into the Video Platform as an Administrator. Click on the Main Menu icon and select Admin Panel.
Navigate to the Devices tab.
Within the Devices tab in Admin Panel, click on any device name to reveal all the available tools for the Device Scheduler and select the Schedule Session button.
Fill out all the information for the meeting.

Preview Title: Title of the session.
Description: Description of the session.
Session Owner: The user's name whom this session belongs to.
Save Location: The folder to save the recording for the Session Owner.
Publish Location: The Course Channel to publish the recording to.
Notify Class When Complete: Check to notify users within the course once the recording is published.
Disable Auto Captioning: Check to disable auto-captioning for the session.
Date and Start Time: Select the date and time for the session.
Scroll down and fill out the rest of the information.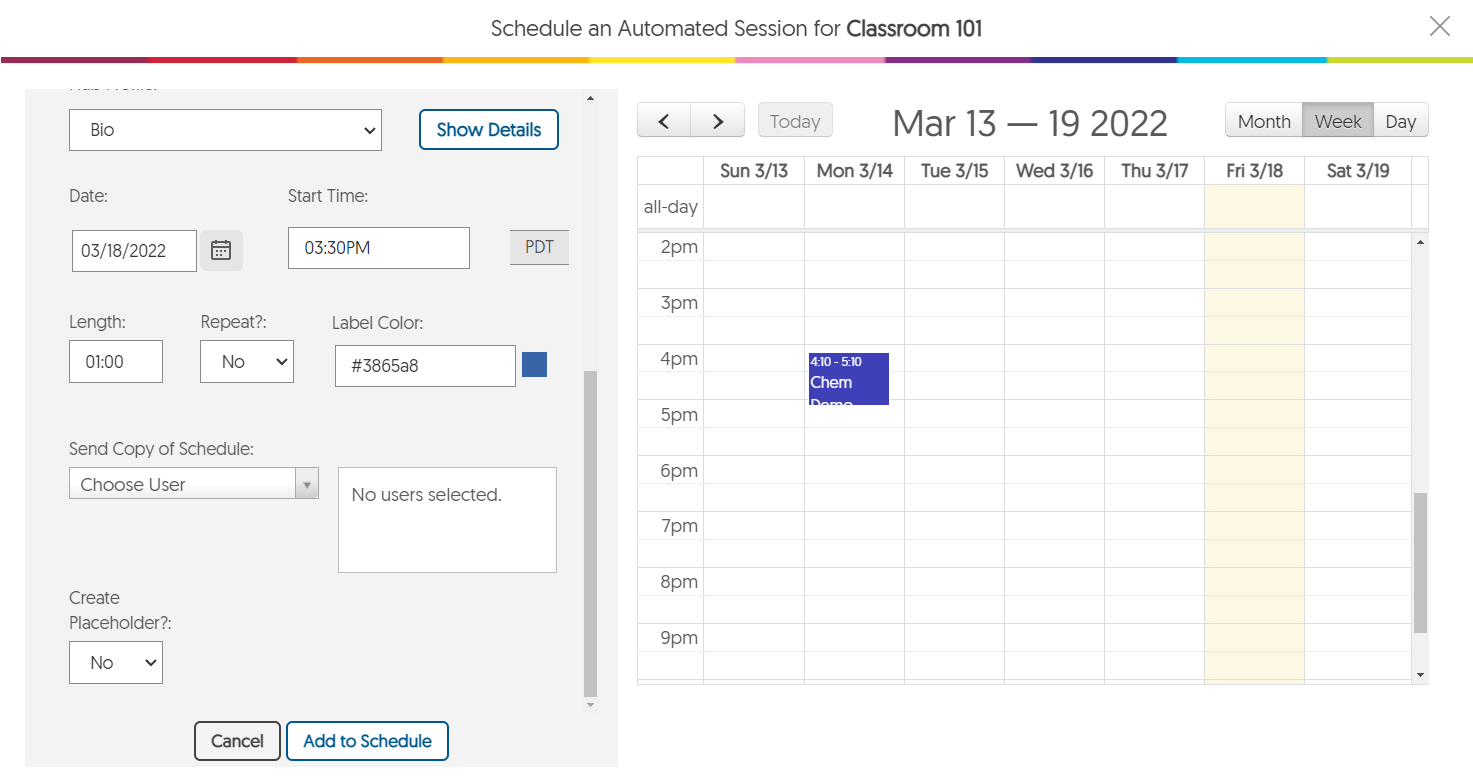 Length: The length of the session.
Enable Live Stream: Select Yes to enable Live Streaming for the scheduled session.
Live 24/7: If Live Streaming is enabled, Administrators can select Yes to create a 24/7 Live Stream. Note that 24/7 Live Stream sessions will not be recorded.
Repeat Detail: Enter the frequency of the recurring sessions.
Label Color: Select the color for the sessions' label on the device's schedule.
Send Copy of Schedule: Select additional users to copy this session to their personal calendars.
Once done, click the Add to Schedule button to save the session to the schedule.
Obtaining the Link to the Live Stream
After scheduling a Live Stream, Administrators can obtain the direct link to the Live Stream from the same Devices page.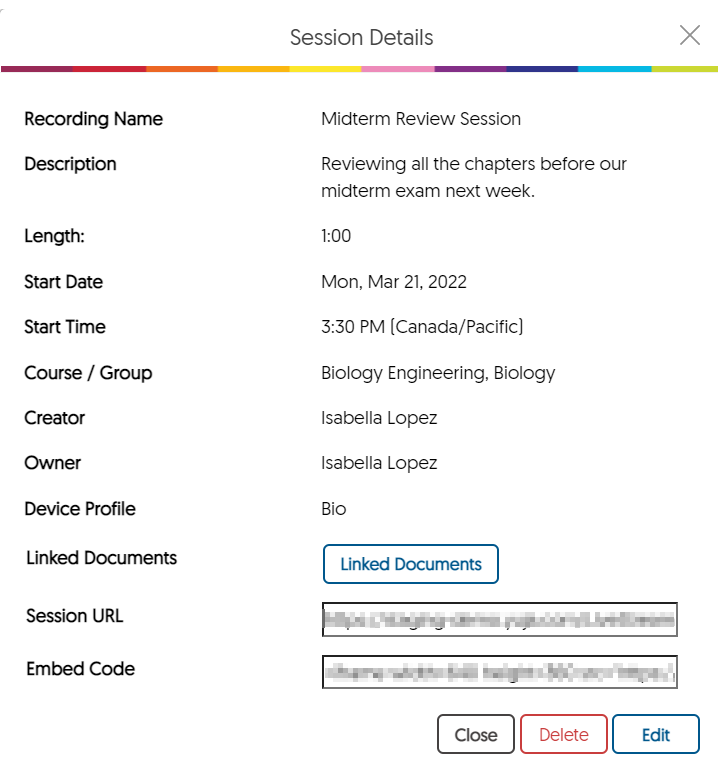 From the Device Scheduler, click on any of the Hardware Hub's name to expand the list of all the available tools.
Select the calendar icon to open the Hardware Hub's schedule.
Find and click on the even tile on the calendar.
Copy down the direct link to the Live Stream.
If an Administrator schedules a series of Live Streams, the Session URL will remain the same and automatically direct to the next live event.
Viewing a Live Stream
While watching the Live Stream, Viewers can play and pause the stream at any moment.