The following guide provides steps that outline how a Users can submit a Video Platform video as part of a Blackboard Assignment Submission.
Creating a Blackboard Assignment
Assignments are created in the Content area, but can also be added to Learning Modules, Lesson Plans, and folders. Any instructions and file attachments that users need to complete the assignment are provided at the time of creation.
As a Content Creator, open the course in

BlackBoard

and click on

Content.
Under

Assessments, choose

Assignments.
Provide a name, due date, grade, and any instructions needed.

Click

Submit

to post the assignment to

Blackboard.
Adding a Video to the Blackboard Assignment Submission
Users can submit their video responses to the posted assignment by using the Video Platform Media Chooser.
Once the user selects Write Submission, the Blackboard content editor will display. Select the Add Content button within the HTML editor.

Under Add Content, select the option for YuJa Media Chooser.
In the Media Chooser window, find the applicable video assignment to submit and click on it.
Once the applicable video is selected click on Insert Videos within the Blackboard window.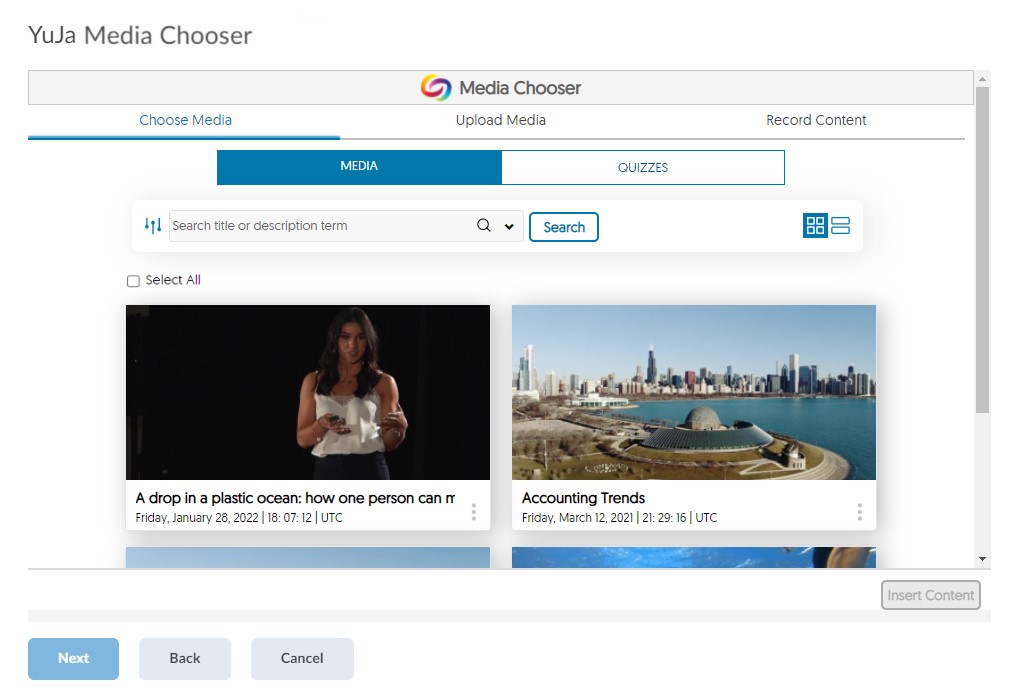 Once the video is embedded along with other supporting items in the Write Submission area of Blackboard, select Submit.
Don't Forget! Once the video assignment is submitted, the student cannot edit, replace, or delete the video file from their My Media Collection.