Moodle works with the Video Platform Media Chooser to enable Content Creators to create video assignments and to allow users to submit responses to assignments.
Creating a Video Assignment
Content Creators can use the Media Chooser to create video assignments.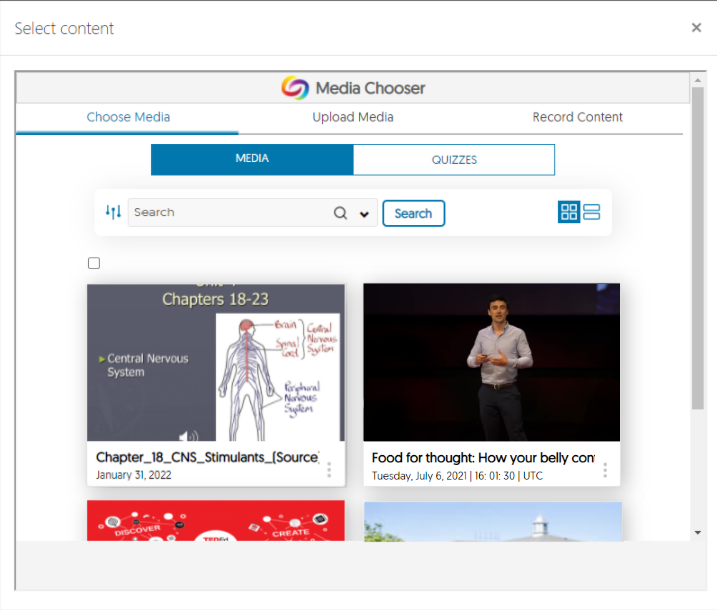 On your Moodle course page, click Turn editing on.
In the Section where you want the activity to appear, click +Add an activity or resource. The Activity chooser dialog opens.
Select the Assignment type within the Activities sidebar and click Add.
Configure the assignment including the name, description, availability, etc. You can use the Video Platform Media Chooser for Moodle to add or record a video prompt into the Description field of the assignment (see below). If you would like students to submit a video as an Assignment response, ensure that the Online text is checked as a Submission type.

The Video Platform Media Chooser is compatible with all Moodle Assignment settings including Feedback types, Submission settings, Group submission settings, Notifications, Grade, Common Module Settings, etc. so use the options that are relevant to your Assignment.
Click Save and return to course.
When students attempt the Assignment, if they use the Video Platform to upload or record media, they simply click on the Video Platform icon within the Moodle rich-text editor (either Atto or TinyMCE) to load the Media Chooser for Moodle. Within the Media Chooser for Moodle, students can upload content, initiate a software capture recording, or link content from external sources.
Viewing and Grading Submissions
Content Creators may view and grade user submissions through Moodle.
On your course page, click the name of an Assignment activity.
Below the summary, click View/grade all submissions. The View/grade all submissions page will open.