OmniUpdate is a web-based Content Management System (CMS) product that hosts web-based content. Video Platform-hosted videos and live streams can be embedded/linked directly into OmniUpdate to ensure that all your relevant videos and events are available right from OU Campus.

Accessing the Embed Code
You'll find the Embed Code for your video available through the Media Details page.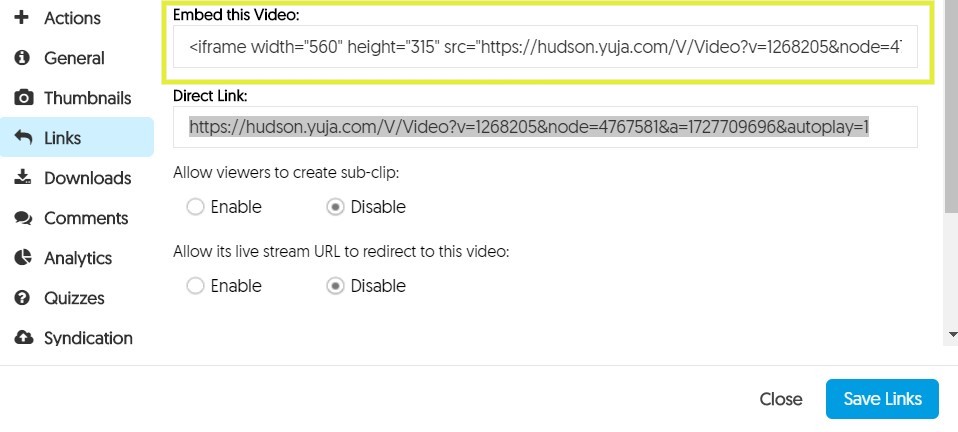 Choose Manage Media at the top of the screen.
Choose the desired video from the Manage Media. Click on More at the upper right.
Select Links.
Copy and paste the Embed Code as desired.
Getting the Link for a Live Stream
The links for the Live Stream are available through the Admin Panel's Devices tab.
Create a pre-scheduled Live Stream. Follow the instructions to schedule your Live Stream.
Click on the Permanent Linkage icon; it looks like an arrow.
Copy and paste the link.
Inserting URLs into OmniUpdate
Once you have the link available on your Clipboard, you can insert it into OmniUpdate. Use the following procedure for URLs, but not for Embed Codes.
Go to the desired location for the media in OU Campus.
Click on the Insert/Edit Embedded Media icon in the WYSIWYG toolbar.
If you are in Classic Editor, in the General tab > Type field select Iframe. Paste the file's URL into the File/URL box.
If you are in JustEdit, paste the URL into the Source field.
Inserting Embed Codes into OmniUpdate
If you are working with a published video, rather than a Live Stream, use the following procedure to insert the Embed Code.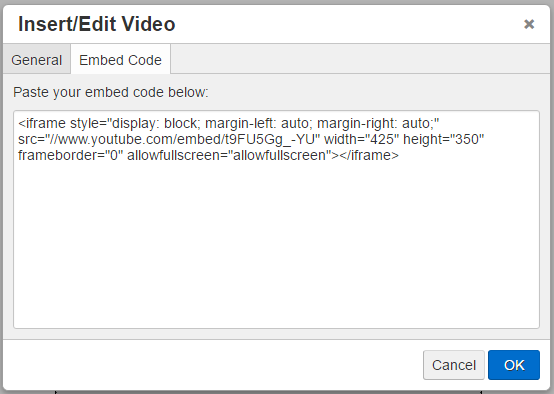 Use the Source or Embed Code tab of the Insert/Edit Embedded Media modal to directly post the embed code of your video.
Click Insert or OK to complete process of inserting the Embed Code.