Public Live Streaming enables organizations to share a publicly accessible URL for a live streaming recording or to allow the public to access the Live Streaming Event from the EnterpriseTube page. The recording must be automated through the Device Scheduling process, or started from the Devices page of the Admin Panel. Only Administrators may access the Admin Panel pages and Public Live Streaming information to share the URL.
Starting an Automated Recording
Organizations may publicly stream any automated recording, either scheduled or started on-demand. Visit Device Scheduling for more information on scheduling recordings, or use the instructions below to start an on-demand recording.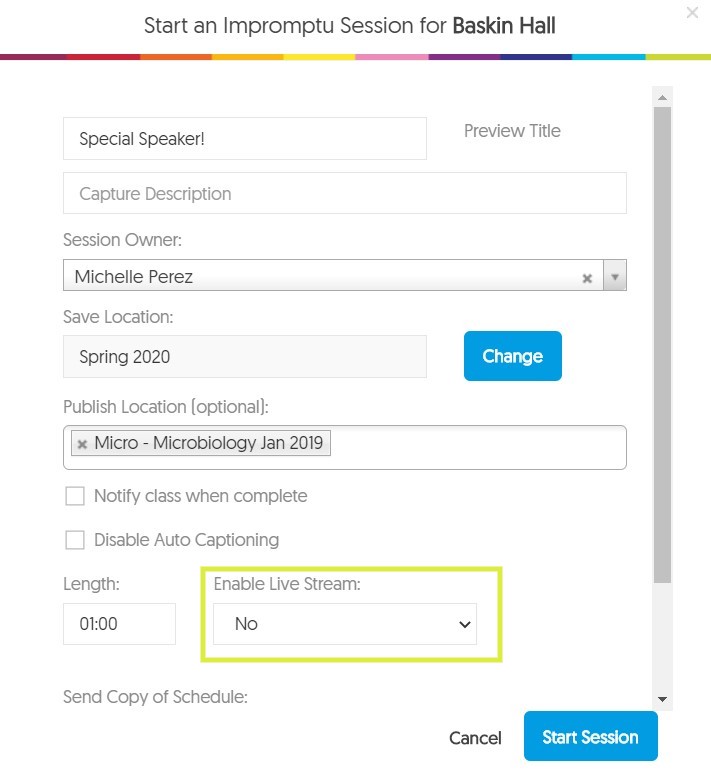 Navigate to the Admin Panel from the Main Menu.
Select the desired Software Capture application installation or Appliance from the Devices page.
Click Play in the right-hand column. Enter a title, course, description, and recording time.
Choose Yes to Enable Live Stream.
Click Start Session.
Confirm that the recording has begun in the Status column.
Accessing the Public URL
The Direct Link and Embed Link for Public Live Streaming is accessible once the recording session has begun. You can easily see when the device is recording.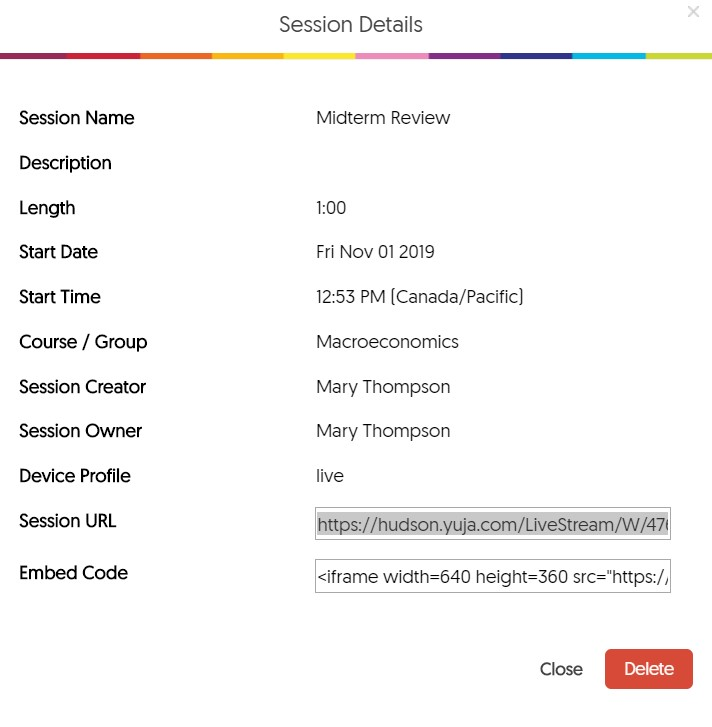 Click on the recording in the Schedule.
Copy and paste the desired URL to share publicly.
Forwarding Event URLs to the Recording
URLs associated with Live Streaming Events can be forwarded to the recording; this allows the same URL to be associated with the recorded Live Streaming Event for improved continuity.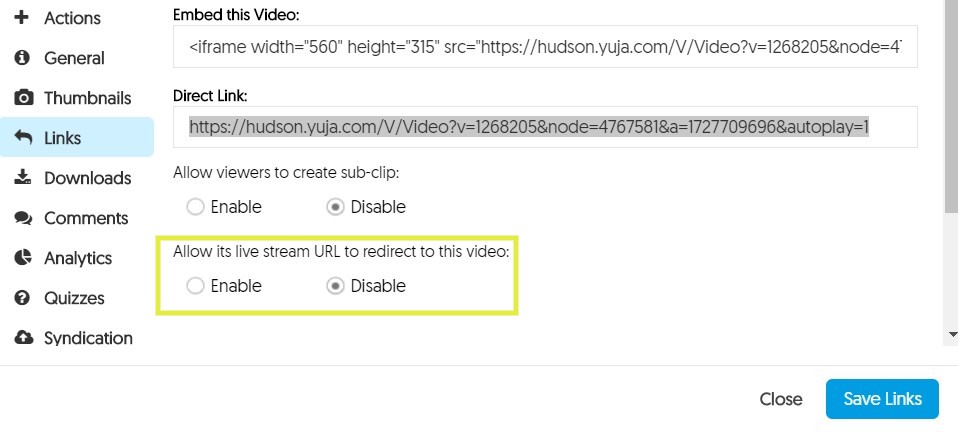 Navigate to Manage Media. Select the destination chosen for the Live Streaming Event.
Choose the desired video. Mouse over the video and select More…
Click on Links. Select Enable under Allow its live stream URL to redirect to this video.
Publishing Events to the EnterpriseTube
Organizations may choose to publish their Live Streaming Events directly to the EnterpriseTube.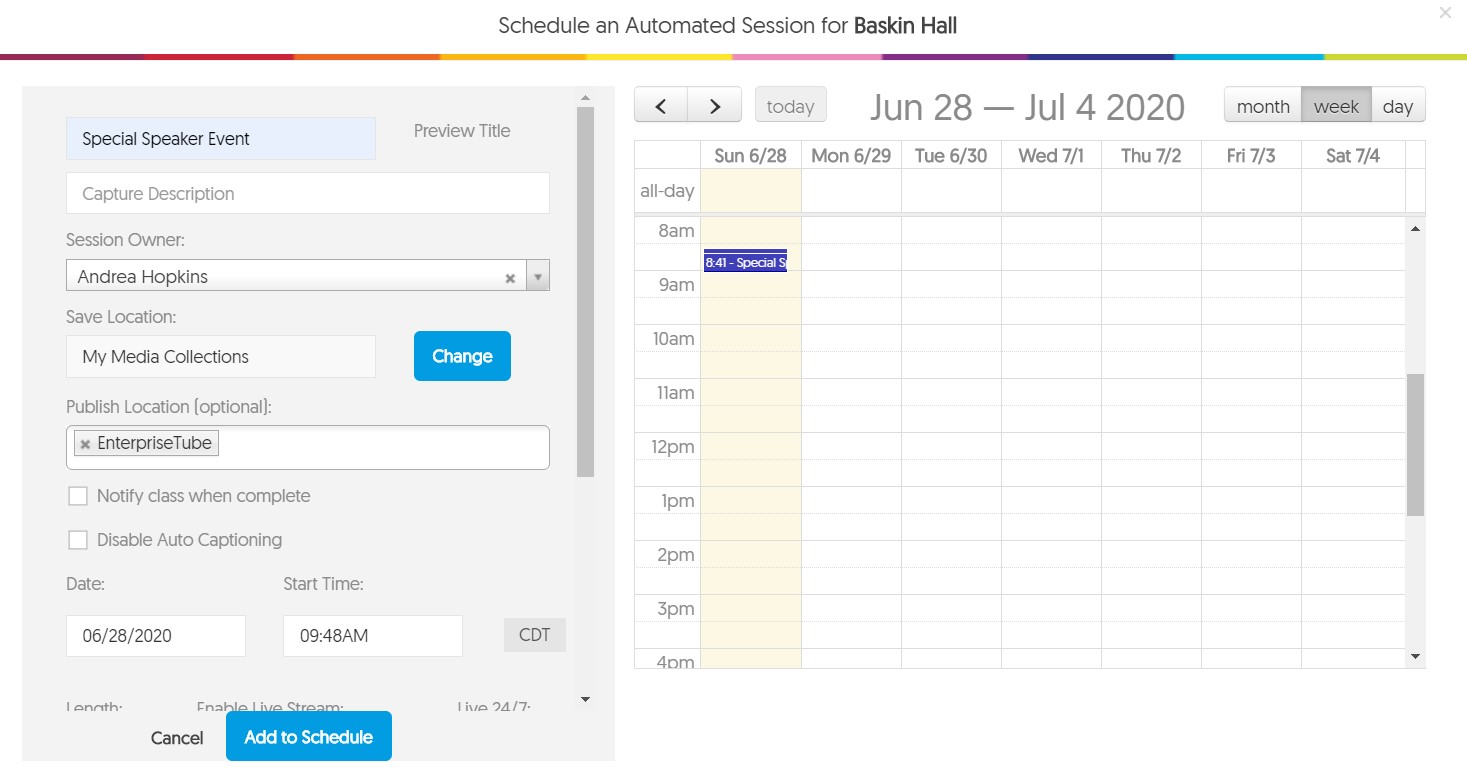 Schedule your Live Streaming Event from the Admin Panel's Devices tab.
Choose to Publish your event to the EnterpriseTube.
Events live streamed to the EnterpriseTube can be accessed by clicking Events from the public EnterpriseTube page.