The Video Platform enables Content Creators to link Video Quizzes with all the major Learning Management Systems (LMS). To ensure that Short Answer quiz grades from the Video Platform properly sync back to the respective LMS grade book, we have provided a summary below on how to apply Short Answer grades.
Submitting Short Answer Questions
These instructions will summarize how students will open and submit their Short Answer questions.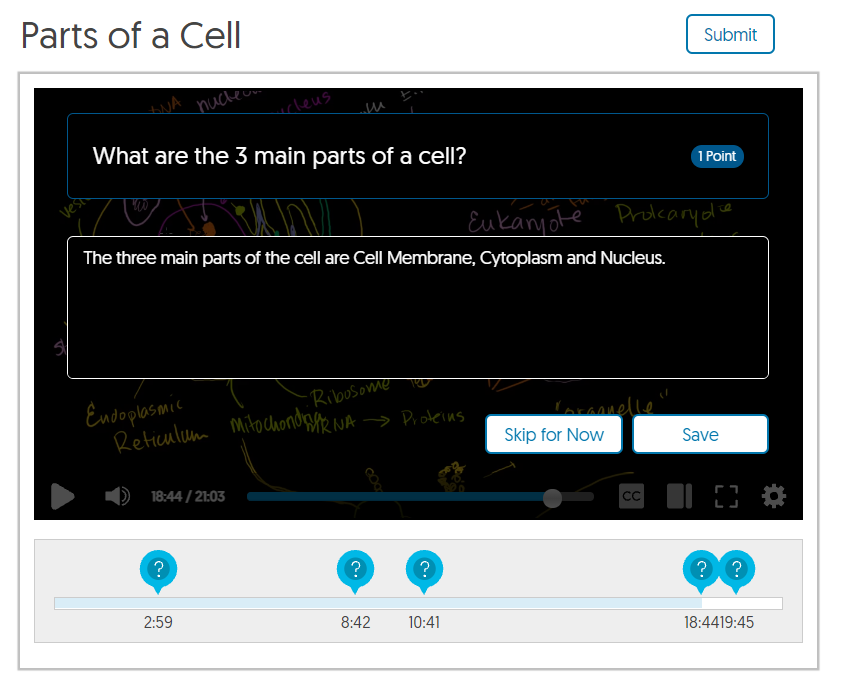 Log in to the LMS and open the posted Video Quiz.
Click Play and answer questions. Click Save to save each of your responses.
Once all questions have been submitted, choose Submit to turn in the Quiz.
Grading Short Answer Questions
Within the Video Platform, Content Creators can apply discretionary grades to Short Answer submissions to ensure that grades populate within the LMS Gradebook.
Log into the Video Platform and select Usage & Analytics from the Main Menu.
On the next page, select Gradebook.
In the quiz selection menus, find the course and quiz name that needs to be graded.
Select the Get Result button to display the student responses.
Under the Gradebook, find the applicable student and click on a Question to expand the number of attempts.
Under the number of attempts, click on the applicable question number

in order to see the submission details.

Based on the submission, select either Correct or Incorrect and Save.
Accessing the Short Answer Grade in the LMS Gradebook
Once the Content Creator selects Correct or Incorrect in the previous section, the student's result will automatically sync back to the respective gradebook on the LMS side. For more information on how to integrate quizzes with all the major Learning Management Systems, please visit support.yuja.com.