Shared Folders provides Administrators and Content Creators the ability to create custom Team Folders to distribute and collaborate on content for smaller groups.
Creating Custom Team Folders
Use a custom Team Folder to share media with a small group of users within your organization.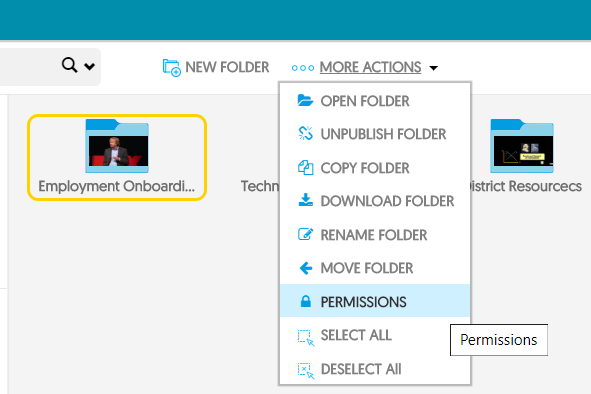 Login to the Platform as an Administrator and select Shared Folders under Manage Media.
Under the Shared Folders menu, select the New Folder button. Provide a custom name for the Team Folder, and select Save.
Once saved, single-click on the Team Folder to highlight it. Select the drop-down menu under More Actions and choose Permissions.
Under the Add permissions menu, choose the User based permissions drop-down to define which members of your team need access to the folder.
Enter the names of the users who need access to the team folder. You can also grant the level of access each member needs: Full Access, Edit Access, and Read Only.
Once you have added the applicable team members, select Save.
Adding Content to Team Folders
Once a Team Folder is created in the steps above, members of the folder can Publish videos directly from the My Media section.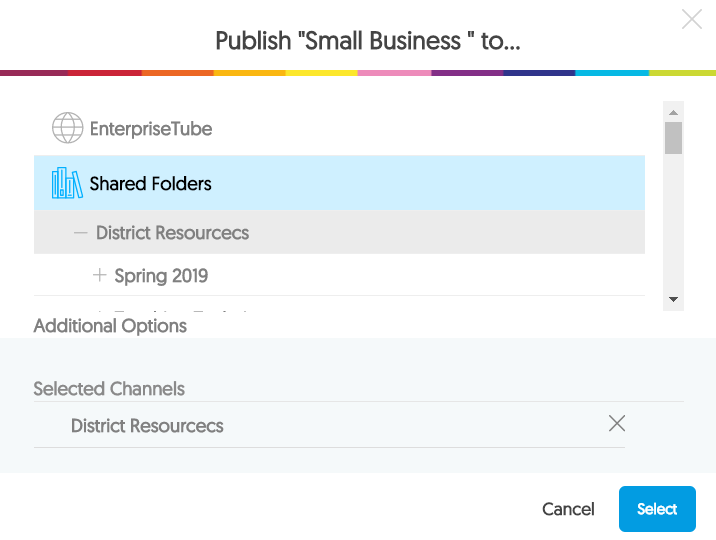 Navigate to your desired media within My Media.
Mouse over the video and choose Publish from the menu in the upper right corner.
Under the Shared Folders menu, click on the name of your team folder and press Select.