Content Creators can upload files by dragging and dropping them into the desired location or using the Upload feature to customize tags, schema, and captions before uploading content.
Uploading Media Files Using Drag-and-Drop
One-click drag-and-drop uploads enable quick access and uploading of a variety of media types.
Log in to the Video Platform and select Manage Media from the top of the screen.
Navigate to the desired folder within My Media, the Favorites tab, or any Shared location from the left-side navigation menu.

Next, drag and drop one or multiple files into the desired location from your desktop.

Uploading Through the Add Media Dialog
The Upload interface provides a simple way to upload one or more media files, customize video captioning, and select where your media is published, all in one step.
Next, you may take the following Actions for your files: Add Schema tags, Publish, and Manage Captions.
Once you have added your desired Tags and Actions, select from a variety of file types, including video files, audio files, documents, YouTube videos, Vimeo videos, web links, and VR videos.
Monitoring Uploads
The Uploading user interface offers the ability to monitor uploads while navigating between different Platform pages. The media will auto-queue for multiple uploads, and previews of the media files can be seen in My Media. Below is a list of features available when viewing media uploads.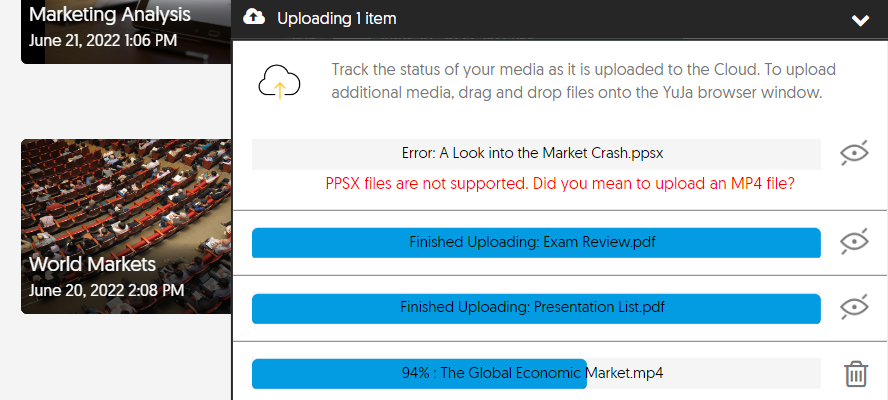 Click the Hide Progress icon, represented by the eye, to hide completed uploads.
Click the Cancel icon, represented by a trash can, to stop an individual media file upload.
An Error message will be given for unsupported file types and will include a suggestion for the correct file type to upload.
Select the arrow in the upper right to minimize the window and dock it on the corner of your screen.
Some of the many formats supported include: wmv, .asf, .flv, .f4v, .f4a, .avi, .mp3, .mpg, .mpeg, .mps, .ps, .mp2, .m2v, .m2a,.ts, .tsv, .tsa, .mts, .mkv, .m2ts, .tod, .mp4, .m4a, .m4v, .3gp, .mov, .mts (AVCHD), Flash video, .webm, .mxf, .dv., .docx, .pdf., .srt, .vtt, .txt, .csv, .xlsx, .pptx, .psd.