Admins can edit the How-to-Fix guides to meet the exact needs and protocols of their institutions when creating content for accessibility. The Guide Editor will provide a wide array of options to create new content or adjust existing content. To learn how to access the editor and learn more about the features provided, please follow the steps below.
Accessing the Guide Editor
Admins can access the Guide Editor in their Issue Settings.
Log in to Panorama as an admin.
Use the drop-down menu to select a file type.

Using the Guide Editor
The Guide Editor provides tools to add texts, images, videos, and more. Below is a list of features offered.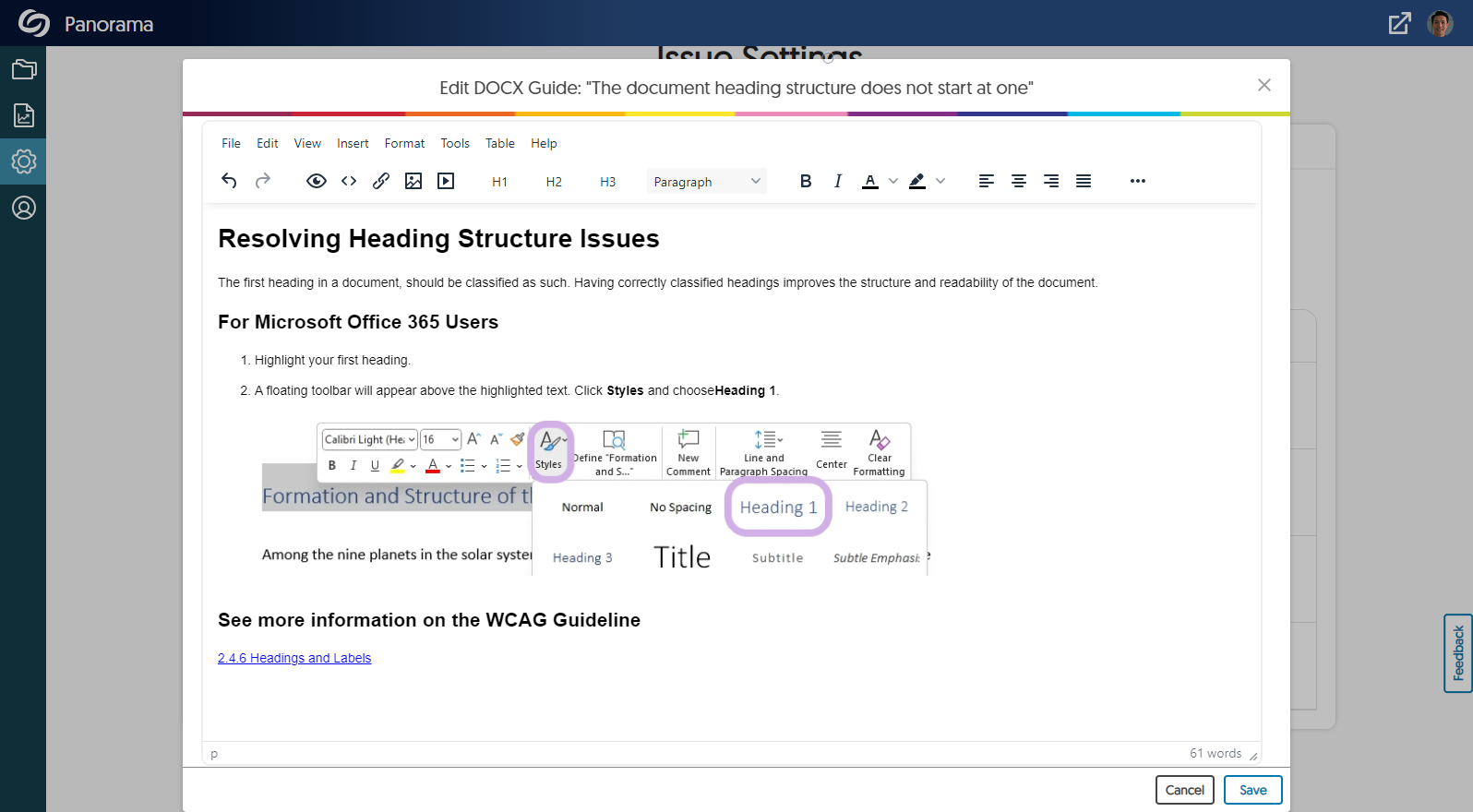 | | | |
| --- | --- | --- |
| | Undo/Redo | Undo or redo any changes made to the guide. |
| | Preview | View how the document will look when published. |
| | Source Code | Access the HTML for the document. |
| | Insert/Edit Link | Add or edit a link. |
| | Insert/Edit Image | Add or edit an image. |
| | Headings | Provides quick access to heading types. |
| | Blocks | Select if the text should be of paragraph or heading type. |
| | Bold | Bold text. |
| | Italic | Italic text. |
| | Text Color | Adjust the color of the text. |
| | Highlight Text | Highlight text. |
| | Align Text | Align text left, center, right, or justify text. |
| | List | Create a bullet point or numbered list. |
| | Indent | Increases or decreases indents. |
| | Clear Formatting | Removes formatting for the selected text. |